L&S CAE Dean On Call will have more information for fall semester soon.
Please see the Dean On Call page for current hours and contact information.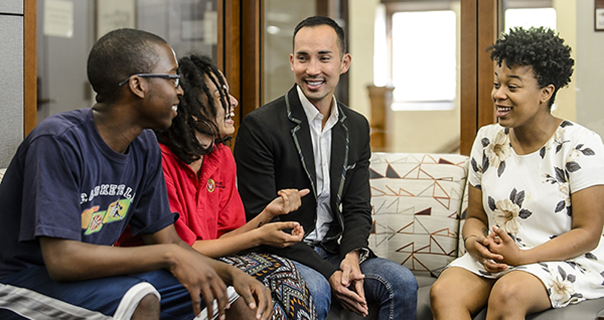 As a vital member of the College of Letters & Science, the Center for Academic Excellence (CAE) provides satellite academic deans' services to undergraduate L&S students who are affiliated with CAE, and students referred to CAE.
At CAE we embrace the diversity of L&S students, and are committed to assisting them in reaching their academic potential, attaining their undergraduate degrees, and realizing their human promise as citizens of a global community.  In partnership with the L&S Academic Deans' Services (ADS) unit, our primary mission is:
To provide accurate and comprehensive information about L&S academic rules and procedures for L&S undergraduate students, faculty, staff, and other interested parties.
To make discretionary decisions regarding the interpretation and implementation of the College of Letters & Science policies as they relate to individual student cases.
To provide services, information, and support to L&S undergraduate students, faculty, staff, and other constituencies engaged in educational programs, policies, and outreach.
To assist campus-wide efforts to integrate a variety of voices into the University community in order to offer a welcoming, supportive, and productive campus climate.
Students will sometimes be encouraged by their academic advisor or instructor to speak with a dean. This always refers to reaching out to an "academic dean," and never to the Dean of the College of Letters & Science. If you are an L&A CAE undergraduate student who has been advised to speak with the dean or academic dean, please contact L&S CAE Academic Deans Services for more assistance.
CAE Assistant Deans provide the following services:  CAE Dean on Call, L&S Deans' Readmissions, and Faculty Appeals.
If you are an L&S / CAE undergraduate student who has been advised to speak with the dean or an academic dean, please contact the CAE Deans' Services for assistance.
L&S CAE Academic Deans' Services is located at:
B47 Bascom Hall
500 Lincoln Drive
Madison, WI  53706
Tel.: (608) 263-5068
Fax: (608) 263-7126
Email: cae@saa.ls.wisc.edu