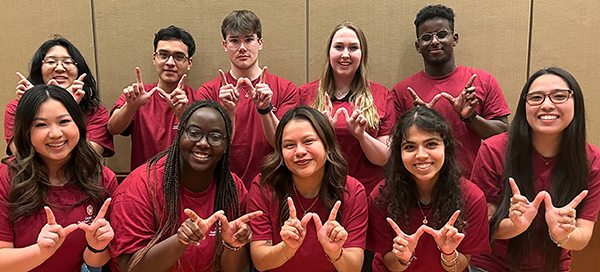 The CAE Peer Mentoring Program supports the transition and retention of first-year students at UW–Madison. Upper-level undergraduates work with first-year students as they transition from high school to college by role-modeling leadership and academic and social skills. New students benefit from the experiences and campus strategies of older, more experienced, Peer Mentors. The first-year transition to college is a big step; with CAE Peer Mentors, first-year students make social and academic connections that ease the important adjustment to college life.
We are hiring peer mentors for the 2023-24 academic year! See the full position descriptions and preview the application below:
If you're ready to apply, fill out the application form here:
Components of our Peer Mentoring Program
First-year students will:
Meet with their Peer Mentors during the academic year
Attend recommended and required programs and workshops
Use their Peer Mentors as resources in adjusting to UW-Madison.
Peer Mentors will:
Facilitate, organize, and plan programs, workshops, and co-curricular activities
Learn professional and leadership skills
Develop team work and collaborative skills.
History of the Peer Mentoring Program
Historically, the CAE Peer Mentoring Program was focused on first- and second-year students' successful transition to college by connecting them with a peer mentor. The program was revamped in 2013 to focus on the experiences of both first-year students and their mentors. The development and growth of the mentors were incorporated into the goals of the program.