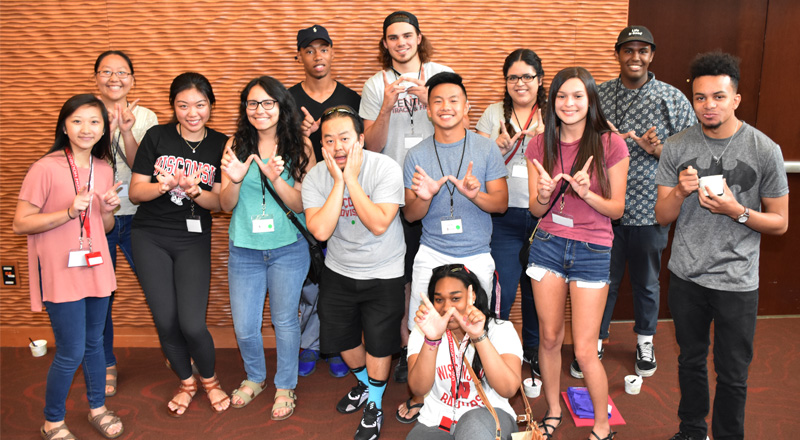 The Summer Collegiate Experience (SCE) is a high-impact, quality-learning, first-year experience for students entering the university. As an SCE student, you will take two classes for degree credit, register for fall courses, and learn about UW-Madison resources and campus culture during a six-week, on-campus program.
The curriculum is designed to advance your skills in writing, critical thinking, and cultural awareness. You will have the opportunity to meet a diverse group of other first-year students and faculty/staff, while getting adjusted to the University's academic and social environment. In the sections below, you can find out more about SCE academics, programming, and housing during the six-weeks.
This is an accordion element with a series of buttons that open and close related content panels.
Academics
Required Programming
Attendance is required at the following events:
Social Community-Building Events
Housing
Accommodation will be in Tripp Residence Hall.
Each student will have a single room during the summer program.
Items You May Wish to Bring
Photo ID (for SOAR)
Health Insurance information (in the event of a medical emergency)
Microwave
Water bottle
Laptop (*there are two 24-hour computer dens available for students, and students may also rent out laptops from the library)
Alarm clock
Laundry bag/basket
High efficiency laundry detergent/dryer sheets/fabric softener
Raincoat/umbrella/rain boots
Clothes for hot and cool weather
Workout clothes/shoes
Bathrobe
Sleepwear
Personal hygiene items/toiletries (shampoo/conditioner, body wash, lotion, toothbrush/toothpaste, etc.)
Personal medications
Shower caddy
Shower shoes
Towels
*SCE will provide backpacks and all school supplies for students
*Cooking utensils may be rented out from the Carson Gulley Front Desk (two kitchens are available for student use at Tripp Hall)
*Each room in Tripp has an air conditioning unit
Items Not Allowed
Toasters
Candles/incense burners
Coffeemakers that use a hot plate
Electric frying pans and grills
Any appliance with an open heating element or exposed heat source
Questions? Contact sce@saa.ls.wisc.edu.
SCE has been an inspirational growing adventure, both academically and emotionally.