Parnian Abunasr-Shiraz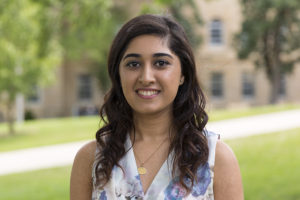 Where are you from? Gothenburg, Sweden
Year in school: Senior
Major: Political Science and a Certificate in European Studies
Interests/hobbies: Spending time with family and friends, doing outdoor activities, going to the library, traveling to different countries, meeting new people from different backgrounds, and trying new foods.
Involvement on campus: Past peer mentor for CAE, Worldwide Orphanage Relief Coalition (WORC), receptionist/special projects employee for CAE
Career Aspirations: After gradation I would like to work in DC and work on international issues that our country is facing. In the future, I would also like to work for the State Department, a think tank, or a governmental/non-governmental organization.
---
What was the most memorable part of your CAE/Great Lakes internship? 
The INROADS Learning Summit was an amazing experience. It really brought our intern team together and we had a chance to work with people from different majors, backgrounds, and experiences. I noticed there were other students who were underrepresented and faced similar challenges as me.
How has this internship prepare you for your future goals? 
This internship has taught me how to deal with sudden changes in my workload and has improved my team-working skills. All of us interns come from different experiences and backgrounds, making us think and work differently. This can be a challenge; however, we all used our leadership and team work skills to make this a productive and successful summer. This internship also allowed me to work with assistant deans/advisors in a professional setting.
What does it mean to be a Badger? 
To me, being a Badger means you will always be part of a community and family even when you leave the university grounds. Standing united hand in hand at Camp Randall singing "Varsity" is another aspect of being a Badger. Whenever you see that red or Bucky Badger, you will know that you are a part of a family that is ingrained to you throughout your time at UW-Madison and beyond.
Who is your support network and how do they help you be successful?
My biggest support network is my family. They've been there by my side everyday throughout my rollercoaster of a life and school experience. They push me to be a better person every day, and I wouldn't be the student or global citizen I am today without their guidance, love, and support. The CAE staff has been a support network for me since coming to UW-Madison. Many of the staff members have pushed me to my limit as a student and challenged me throughout my time here. I appreciate everything they have done for me these past 2 years, and can't express my gratitude enough for the sense of community, support, and resources they have given me.
What advice do you have for students who want to increase their cultural competency? 
Students should enroll in the Intercultural Dialogue course that is offered here. Starting college I thought that I was very culturally competent due to all my traveling and meeting people, and being a person of color with a different culture. However, once I took this course I realized that I wasn't as culturally competent as I thought. By meeting other students of color on this campus, through this course, I had the opportunity to hear their stories of struggle because of their race and learn about many other social issues on our own campus and around the country.