Ciara Bridges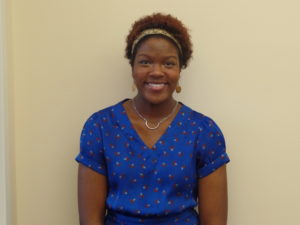 Where were you born: Chicago, IL
Where are you from: Chicago, IL
Majors: Sociology and Psychology
Year in school: Junior
Interests/hobbies: Knitting, being with friends, binge watching TV shows
Involvement on campus: Students Today Leaders Forever (STLF) volunteer organization, Motivation Research Lab
Career aspirations: Social worker, Social Psych Researcher
---

What is the value of obtaining a liberal arts degree?
Liberal Arts Degrees give you the value of hard and soft skills that are necessary in the workforce. They give you more of an understanding of people and how to manage them, as well as the ways to take those softer skills and translate them to management and leadership positions. I would describe most liberal arts degrees as the skills you'll need not only in the workplace, but in everyday life activities as well.
Looking back, what was the best part of your CAE experience?
The best part of my CAE experience was the assistance I received in my endeavors towards academic success. Mentors, whether they be peers, deans, advisors, professors, or teaching assistants, aided me in challenging decision making the first two years. Tutors and workshops also informed how I managed my time and resources inside and outside the classroom.
What are traits and skills that a liberal arts degree builds that other degrees may not?
Liberal arts degrees cater more to social or creative skills that are built into everyday life; they offer more than one path in most scenarios. They build critical thinking skills and ways to creatively navigate a problem while ensuring the best possible outcomes on all fronts. Many with liberal arts degrees are the teachers, bosses, writers, and creators of the world you see every day.
What advice can you give first-year students in order to help ease their transition from high school to college?
Listen to yourself and what you want and need. It's so easy to disregard you own feelings and thoughts because of how many people are telling you what you should and shouldn't do. Advisors, parents, and friends are here to assist you in the building of your future, not to build it for you. It has taken a lot of people, myself included, too long to figure out what they want out of their college experience. Don't waste that time you could spend doing something you love on something you tolerate.
How has CAE helped you create your Wisconsin Experience?
CAE really helped ease me into the college experience. Corresponding with deans via email, making and keeping appointments, and having deadlines set me up for success for when I would encounter those situations later in college. The Wisconsin Experience is what you make it, and CAE helped guide me towards what I wanted mine to be.