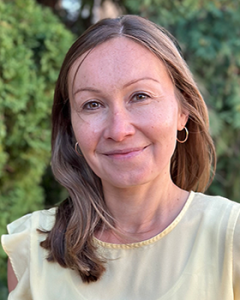 B.A., M.A. in Education, Kazan State University, Russia
M.S. in Educational Leadership & Policy Analysis, Educational Psychology, UW-Madison
Ph.D. in Educational Psychology, UW-Madison
Aygul started her position as an advisor in the Academic Advancement Program in 2010. In 2012, she was appointed as coordinator of the academic mentoring program. In 2020, she became the Assistant Dean and Assistant Director, overseeing CAE's advising and academic support hub.
As a first-generation student herself, Aygul loves working with the wonderful students of the CAE program. Each day, she is inspired by the energy and resilience that CAE students bring to the university. In her advising and leadership, she is committed to creating partnerships and building communities with and for students. In her dream UW, each student feels belonged, valued and empowered to create social change.
In her free time, Aygul likes to run Wisconsin trails, go on bike rides with her family, and read.