Alec Ortiz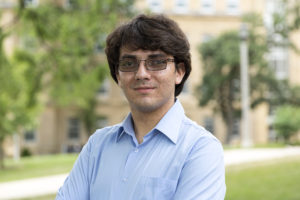 Where are you from: Saukville, WI
Year in school: Senior
Major: Political Science
Interests/hobbies: Playing video games and cards, exploring through a city, reading books, listening to music, and learning
Involvement on campus: Getting involved in the Alexander Hamilton Society
Career aspirations: I would like to work for a federal agency such as the FBI, be a political consultant or lobbyist, go back home and run for local office, or take over the world.
---
What is the value of a liberal arts degree?

The value is that you are learning about different viewpoints and perspectives as you are going through your major courses. The versatility of a liberal arts major also allows you to go into many different fields of studies, not just the one you majored in.
What successful study tips can you share?
Personally, I like to find a quiet place away from people in order to concentrate on what I am doing.
What is the most memorable part of your CAE/Great Lakes internship?
The best part of this experience was going to the Chicago INROADS Learning Summit with my intern team. I had the chance to learn about financial literacy, critical thinking, work situations, and managing conflict. I figured out how to tackle crisis situations and apply real work environment tactics.
What are you better prepared for now as you finish your internship?
I've learned how to better manage my time and adapt in a work place environment. It was also a great learning experience being a part of a team and working around conflict situations and goals.
What was your favorite class at UW-Madison and why?
English 177: Video Games and Popular Literature was definitely my favorite course. We basically read through novels that dealt with video games as the central theme and plot device and focused on how different types of video games tell different types of stories.